I thought I would share some experiences approaching my first year in Dubai! It's been eventful.
After 8 fantastic years in Manchester, from starting out at Manchester Metropolitan University, to finalising my last job for Green Sheep (my own landscape design practice) I needed a change- career and climate!
The career part has been the easier, adapting from Design and Build in Manchester's notorious heavy rain and mud, to an air conditioned office in a searing desert city where the only natural water you find is perspiration. Adapting to the climate has been a little tougher!
The team here is great, very accommodating, friendly and helpful and after three years out of the office environment, I needed all the help I could get (AutoCAD/Indesign/Sketch Up/Photoshop).
My first two weeks were interrupted by a trip to the hospital, with what I thought was an upset stomach.  After a day off work I had to drive to hospital for a sick note.  30 minutes later I was in a hospital bed awaiting surgery!  I'm not a doctor, but I suppose I'm never going to use my appendix.
The work in Dubai has been involved countless imminent deadlines, some late nights and office takeaways but we always managed to complete and issue concept reports, sketch designs and construction drawing packages for projects ranging from a health clinic, residential towers with podium landscape, hotels and masterplanning waterside developments.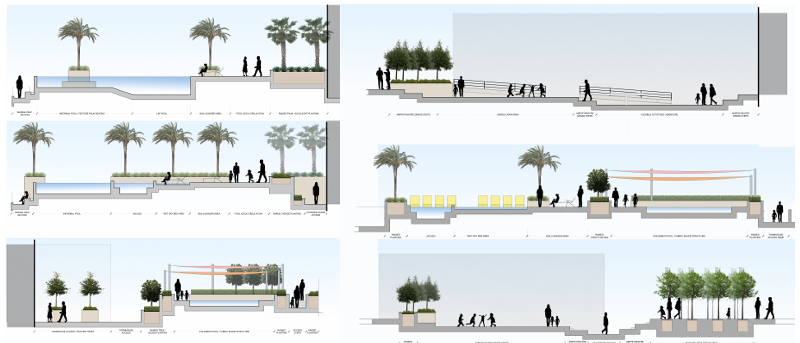 I have been introduced to and been able to assist in all stages and elements of design works including the all-important irrigation drawings, water demand calculations and cost estimates for hard and soft landscape as well as water features, swimming pools and external lighting.  With planting that's completely new to me and materials pallets and client visions very contrasting to that in England, at times it felt like starting from scratch! The architecture and Arabic design principles create different precedent.  Shade is now more important than shelter and swimming pools are a necessity complete with shaded children's swimming pools, spas and wet bed areas!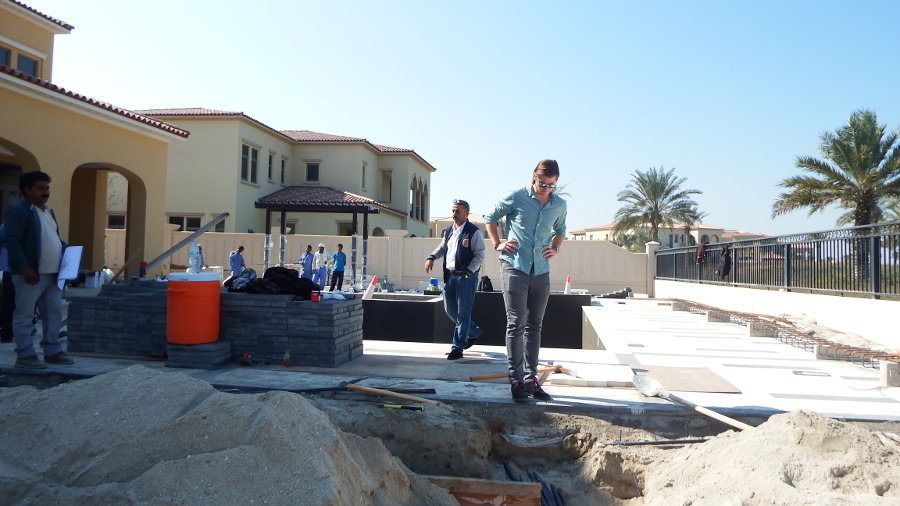 Further to this, I've also been assisting on projects outside the UAE including a large international hotel chain in Saudi Arabia including ground floor, podium level (above the parking providing additional landscaped space) and a 17th floor external pool area. It was interesting to meet swimming pool consultants and provide details to bespoke features. While in another project, an internal courtyard in a Villa in Ras al Khaimah, where a bespoke green wall dominated the design, I helped to create photomontages for a client presentation.
Most recently, and thankfully during the winter months, I have been able to see projects developing on site including three villas in Abu Dhabi where we have been involved in the supervision of hard and soft landscape works including water features and swimming pools.
Work continues apace but we have some new staff now settled in and more joining soon as the economic climate and the weather continues to warm up in Dubai.
I have been home for holidays and even managed a fantastic trip to Jordan to see some of the awe inspiring archaeological sites at Petra and Amman as well as Wadi Rum made famous by Lawrence of Arabia.
So a hectic but enjoyable time approaching my first anniversary at Alshamsi Terra Firma coinciding with a promotion from Junior Landscape Architect  to Landscape Architect and I am now 'looking forward' to continuing P2C study along with two other colleagues at ASTF mentored by our Senior Landscape Architect and Director.
Dan Lawton, Landscape Architect, Alshamsi Terra Firma, Dubai